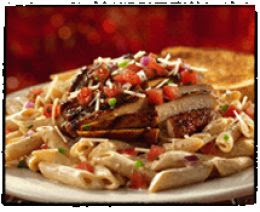 12 ounces penne
3 tablespoons unsalted butter
1 1/2 cups half-and-half
1/2 cup grated parmesan cheese
1 tablespoon all-purpose flour
1 lb boneless skinless chicken breast
1 1/2 tablespoons cajun seasoning
1/4 teaspoon cayenne pepper (optional)
2 teaspoons vegetable oil
2 firm-ripe roma tomatoes, cored and diced
salt and pepper
Bring a pot of salted water to a boil. Cook penne according to package directions.
Add half-and-half; stir until thickened, 6 minutes. Remove from heat; add parmesan, salt and pepper. Cover.
Pound chicken to 1/2-inch thickness. Rub Cajun seasoning and cayenne evenly over chicken.
Warm oil in a nonstick skillet over medium-high heat. Add chicken and cook, turning once, until no longer pink in center, 6-8 minutes.
Slice chicken.
In a bowl, toss pasta with sauce. Top with chicken and tomatoes and serve.
NOTE: You can skip step 2 and just use a jar of prepared Alfredo Sauce.