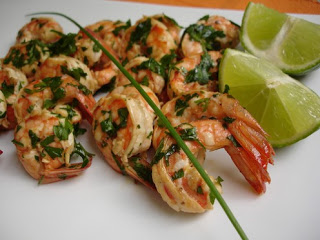 24 large shrimp, peeled and deveined
1 teaspoon salt
2 tablespoons butter
1/4 teaspoon ground black pepper
1 clove garlic, chopped
1/4 teaspoon cayenne pepper
1 lime
1/4 teaspoon dried parsley flakes
1/8 teaspoon garlic powder
1/4 teaspoon paprika
1/8 teaspoon dried thyme
Mix the seasoning ingredients in a small bowl.
Preheat a large skillet over medium heat.
Melt the butter to the pan and stir in the chopped garlic.
Saute for about 10 seconds.
Add the shrimp to the pan.
Cut the lime in half and squeeze each half into the pan over the shrimp.
Season the shrimp with all of the seasoning blend.
Saute the shrimp for 5 to 8 minutes or until they turn pink and begin to brown slightly.
Cook both sides of the shrimp.
It can be served hot or cold as an appetizer.
Serve on rice or pasta for a full meal.