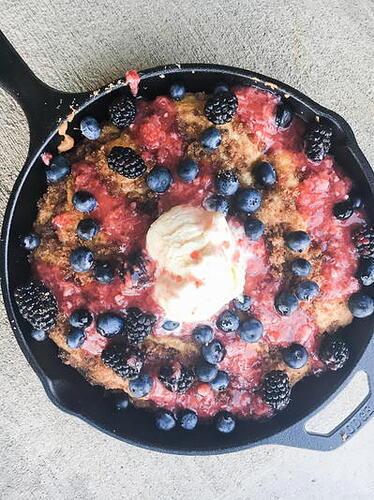 Warm blackberries & blueberries baked with rich butter cake topped with streusel and finished with vanilla ice cream, strawberry sauce & cinnamon-sugar. Using this mix makes it so easy to make as well.
1 Package Krusteaz Cinnamon Swirl Crumb Cake
2/3 cup water
1 egg
Blueberries
Blackberries
Strawberry Glaze
Preheat oven to 350 degrees.
Mix the Krusteaz mix with water and one egg until slightly lumpy.
Spoon half of the mixture into a greased large cast iron skillet.
Sprinkle half the cinnamon sugar.
Drop the rest of the mixture by the spoonful on top of the cinnamon sugar,
and then sprinkle remaining cinnamon sugar.
The dough won't reach the edge of the cast iron skillet, but it will expand to fill it while cooking.
Bake for about 30-35 minutes, or until it is not doughy.
Top with blueberries and blackberries. Put a giant scoop of ice cream in the center.
Drizzle strawberry glaze over the top of it.
Strawberry Glaze
1/3 cup strawberries, choppd
1/4 cup sugar
1 1/2 teaspoon cornstarch
1/8 cup cold water
1 tablespoon butter
1 teaspoon lemon
Blend strawberries until they reach a pulp-like texture.
Place in sauce pan.
Add sugar and cornstarch.
Bring to light boil and stir for two minutes.
Remove from heat and mix in butter and lemon.