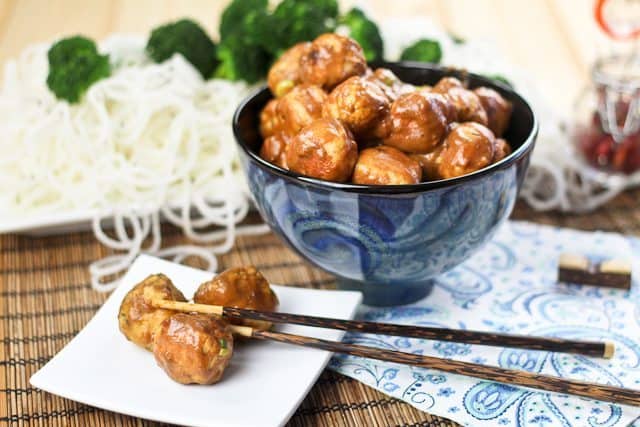 For the Meatballs
1 lb ground turkey or chicken
2 Tbl minced ginger
1/4 cup scallions, chopped
1 tsp garlic powder
1/4 cup almond flour
1 egg
light flavored oil for frying (olive, grapeseed, etc)
For the Sauce
1/2 tsp sesame oil
3 Tbl rice wine vinegar (unseasoned - sugar free)
3 Tbl soy sauce (tamari based for GF, or coconut aminos for Paleo)
1/4 cup water
3 Tbl sugar substitute (honey for Paleo)
1/2 tsp xanthan gum (or arrowroot powder)
1/4 cup scallions, chopped
4 - 5 small dried chilies, seeded and chopped
To make the meatballs:
Combine all of the meatball ingredients and mix thoroughly. Form into 16 balls and saute/fry in oil over medium heat until cooked through and crispy. Alternatively you could bake them but they won't get the crunchy exterior.
To make the sauce:
Combine the sesame oil, vinegar, GF soy sauce, water, sugar substitute, and xanthan gum in a small saucepan and whisk until combined. Add the scallions and chili pepper and bring to a boil. Simmer for five minutes until thickened and remove from heat.
To serve:
Add the cooked meatballs to the thickened sauce and stir to coat. Garnish with more chopped scallions and chilis if desired.
Notes
Approx nutrition info per serving: 322 calories, 25g fat, 3.75g net carbs, 23g protein
To lower the fat and calories, use extra lean ground turkey, and bake rather than fry them.