Hotpot, also known as "huoguo," is a popular Chinese dish that has been enjoyed for centuries. This delicious meal involves cooking a variety of fresh ingredients in a simmering pot of soup or broth, placed at the center of a dining table.
Hotpot is not only a tasty and healthy meal, but it's also a fun and interactive dining experience, perfect for sharing with friends and family. In this post, we'll share a popular Chinese hotpot recipe that you can easily make at home.
Get ready to savor the delicious flavors of this classic dish and enjoy a memorable meal with your loved ones!
Popular Chinese hotpot recipe with Beef or Chicken: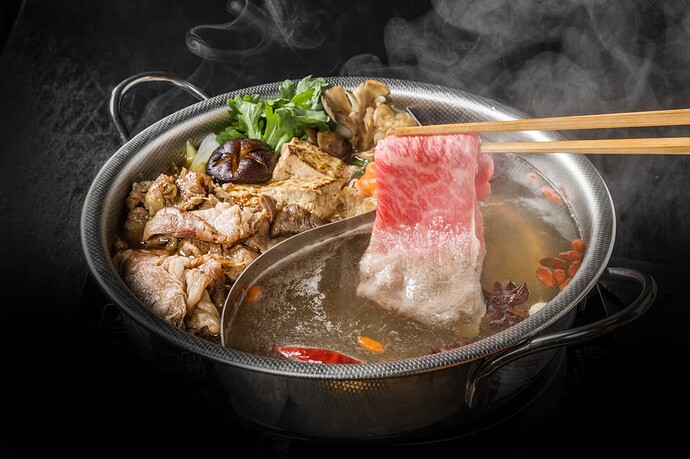 Ingredients:
1 pound thinly sliced beef (or lamb, chicken, or seafood)
1 cup sliced mushrooms
1 cup sliced Napa cabbage
1 cup sliced carrots
1 cup sliced daikon radish
1 cup sliced tofu
1 cup sliced green onions
1 cup sliced cilantro
1 tablespoon vegetable oil
4 cloves garlic, minced
4 cups chicken or vegetable broth
2 tablespoons soy sauce
2 tablespoons hoisin sauce
2 tablespoons Shaoxing wine
1 tablespoon chili oil (optional)
Instructions:
Arrange the sliced beef and other ingredients on plates and set aside.

Heat the vegetable oil in a hotpot or a large pot over medium-high heat.

Add the garlic and sauté until fragrant, about 1 minute.

Pour in the broth and bring to a boil.

Add the soy sauce, hoisin sauce, Shaoxing wine, and chili oil (if using) and stir to combine.

Reduce the heat to low and let simmer for a few minutes.

Transfer the hotpot to a portable burner and place it at the center of the dining table.

Let diners add their desired ingredients to the simmering broth and cook for a few minutes until tender.

Serve with dipping sauces, such as soy sauce, sesame oil, or chili sauce, and garnish with green onions and cilantro.
Note: You can adjust the ingredients and seasoning according to your personal preference. You can also use a different type of broth or add other ingredients such as dumplings, fish balls, or enoki mushrooms.
Enjoy!
Until Next Time… Be Well!
RSN