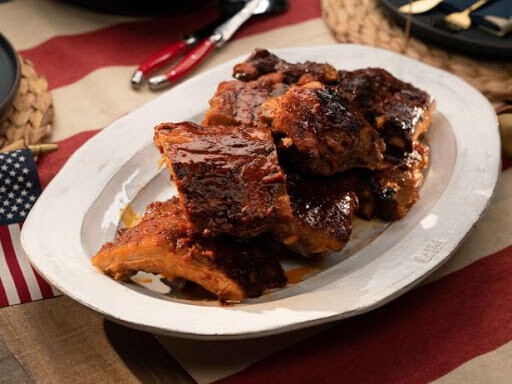 7 to 8 pounds baby back ribs
1/2 cup cider vinegar
2 tablespoons seasoned salt
2 teaspoons freshly ground pepper
2 large onions, sliced
Chipotle Barbecue Sauce*
Chipotle Barbecue Sauce*
2 (18-ounce) bottles smoke-flavor barbecue sauce
6 tablespoons fresh lime juice (about 2 limes)
2 tablespoons minced garlic
3 canned chipotle peppers in adobo sauce, undrained and chopped
1 tablespoon adobo sauce from can
Preparation
Combine all ingredients in a medium bowl, stirring well.
Yield Makes 3 1/2 cups
Place ribs in a large roasting pan. Pour vinegar over ribs. Rub ribs with
seasoned salt and pepper. Separate onion into rings, and place atop ribs.
Bake, covered, at 400º for 2 1/2 hours; drain. Return ribs and onion to
roasting pan. Pour Chipotle Barbecue Sauce over ribs, turning to coat. Bake,
uncovered, 25 more minutes.
Yield Makes 8 servings
George Spriggs
Tybee Island, Georgia