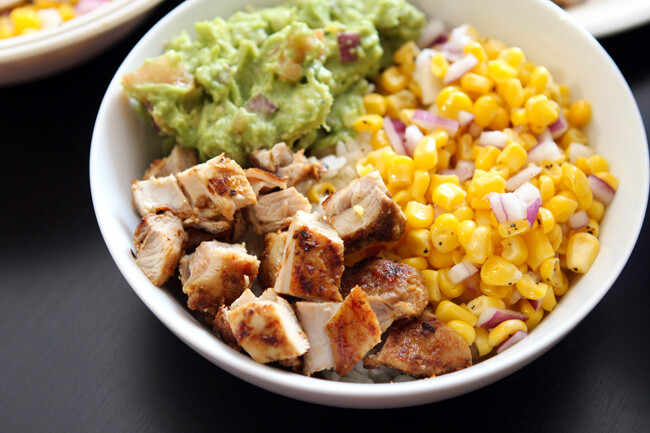 For the chicken:
4 boneless, skinless, chicken thighs
1 tbsp. vegetable oil
2 tsp. chili powder
1 tsp. garlic powder
1 tsp. dried onions
1 tsp. ground cumin
½ tsp. dried oregano
½ tsp. black pepper
For the corn salsa:
1½ cups frozen corn, defrosted
½ red onion, diced
Juice of 1 lime
Salt and pepper to taste
For the guacamole:
See below
For the rice:
I made 1 cup of white rice
Place your chicken thighs in a gallon-sized Ziploc bag. Add the oil to the bag, seal it, and
toss and turn the chicken inside the bag until they're all well-coated in oil.
Mix all the seasonings in a small bowl then pour them into the chicken bag. Seal it and
toss and turn the chicken inside the bag until all of the chicken is well-coated with the
seasoning mix. Refrigerate the chicken in the bag for at least 4 hours and up to 24 hours.
When ready, heat up your grill (I used my Cuisinart griddler) and grill each side of the
chicken for 5 to 6 minutes until chicken is cooked through and there are nice grill marks
on both sides. Remove chicken from grill and set aside before cutting.
While the chicken cools, prepare the corn mixture by combining all the ingredients in a
medium sized bowl and tossing to mix well. Set aside.
Make the guacamole with the instructions from the 5. above recipe link.
Transfer the cooled by warm chicken onto a cutting board and dice into cubes.
Assemble the burrito bowl by putting a bed of rice into the bottom of a bowl then adding
your toppings on.
Notes:
I kept mine in the fridge for 24 hours. I wanted the maximum amount of marinating and
flavor. Mine turned out great, but I do not know if it will yield the same results if you only do
it for 4 hours or shorter than 24 hours. I also obviously omitted some of the usual Chipotle
burrito toppings. This is a very versatile dish to build on so you're more than welcome to
use cheese, beans, tomatoes/salsa, sour cream, etc. to build your own personalized burrito
bowl.
Guacamole
2 avocados
1 Serrano chili, de-seeded and diced
½ red onion, diced
1 medium tomato, diced
½ tsp. salt
Juice of 1 lime
In large bowl, mash up the avocados with a fork then add the Serrano chili, red onion,
tomato, salt, and lime juice. Mix the ingredients together until well-combined.