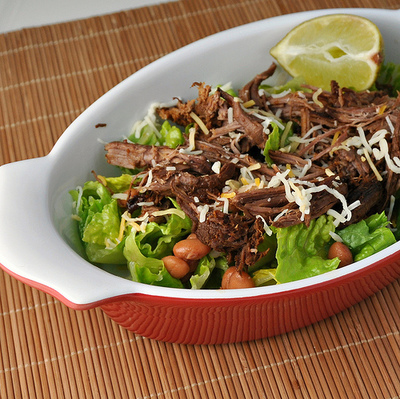 3 lbs beef eye round or bottom round roast, all fat trimmed
5 cloves garlic
1/2 medium onion
1/2 lime, juiced
2-4 chipotles in adobo sauce (to taste)
1 Tbsp ground cumin
1 Tbsp ground oregano
1/2 tsp ground cloves
salt and pepper
3 bay leaves
1 tsp oil
1 cup water
Place garlic, onion, lime juice, cumin, oregano, chipotles, and ground clove in a blender.
Cut meat into 4 inch chunks. Season with salt and pepper and brown on high heat in 1 tsp oil. Add liquefied spices (what you blended), water, and bay leaves and simmer low two hours in a pressure cooker. If you are making this in a regular pot, you will have to double the cooking time to at least 4 hours or more, covered on a low flame and add more water from time to time to make sure it doesn't dry out.
Once cooked and the meat is tender, remove the meat and place in a dish. Shred the meat with two forks and reserve the liquid for later. Discard the bay leaf. Return the shredded meat to the pot, adjust salt and cumin if needed, and add some of the reserved liquid back. Simmer, uncovered, for about 10 minutes to let the flavors penetrate.