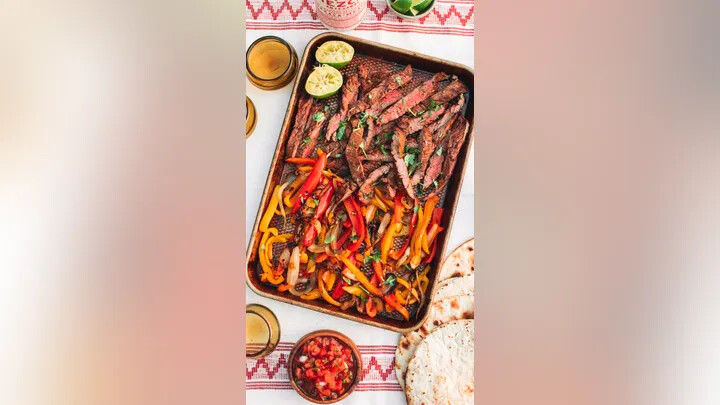 ⅓ cup lime juice
⅓ cup orange juice
½ cup mezcal
3 tbsp soy sauce
4 tbsp olive oil, divided
½ cup chopped cilantro +more for serving
2 tbsp canned chipotle chili liquid (more if you like it spicy)
3 garlic cloves, minced
1 tbsp brown sugar
2 tsp chili powder
1 tsp ground cumin
1 tsp paprika
1 ½ lbs skirt steak
2 bell peppers (color of your choice), sliced in ¼ inch pieces
½ white onion, thinly sliced
1 tsp kosher salt
Freshly cracked black pepper
In a small bowl whisk together lime juice, orange juice, mezcal, soy sauce, two tablespoons olive oil, cilantro, chipotle chili liquid, garlic, chili powder, cumin, and paprika. Pour marinade over steak in a large bowl, making sure steak is submerged or in a large, sealable bag. Allow steak to marinate for at least four hours or overnight.
Prepare a gas grill on medium high heat for direct grilling, or heat a cast iron grill pan on medium high heat on the stove top. Grill steak for two-to-three minutes on each side (for medium rare) or until charred. Transfer steak to a cutting board, tent with foil, and allow it to rest for 10 minutes. Slice against the grain for ½ inch strips.
Heat a large, heavy bottom skillet on medium high heat. Add in the remaining two tablespoons olive oil, bell peppers, onions, salt, and a few turns of cracked black pepper. Sauté peppers until slightly tender and the skin is charred, about eight-to-10 minutes.
Char corn or flour tortillas over a grill, gas flame or in a dry skillet for 15-20 seconds on each side on medium high heat. Keep tortillas in a warm, damp dishcloth to keep warm.
Serve steak, peppers and charred tortillas on a serving platter with guacamole, pico de gallo, and sour cream.