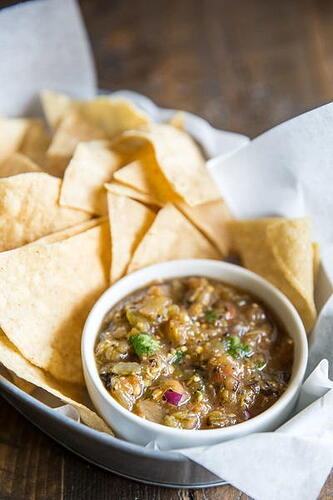 1/2 tomato cut in large chunks
16 medium-sized tomatillos, plus 2 more, husks removed, sliced in half horizontally
1 jalapenos seeds and stem removed
1/2 red onion cut large chunks
2 cloves garlic
1/2 cup cilantro leaves loosely packed
1 teaspoon cumin
1/2 teaspoon oregano
Salt and freshly ground black pepper
juice from one lemon
juice from one lime
Preheat oven to 500 degrees. Line a baking sheet with aluminum foil.
Place 32 of the halved tomatillos skin side down on the baking sheet, and place in the oven.
Bake until they begin to toast, about 20 minutes.
In a food processor, combine the tomatillos, jalapenos, red onion, garlic, cilantro, cumin and oregano.
Add the additional fresh tomatillos. Pulse until the mixture is slightly chunky.
Add lemon and lime juices, and season to taste with salt and freshly ground black pepper.
Notes
For additional heat, leave the seeds in the jalapeno.