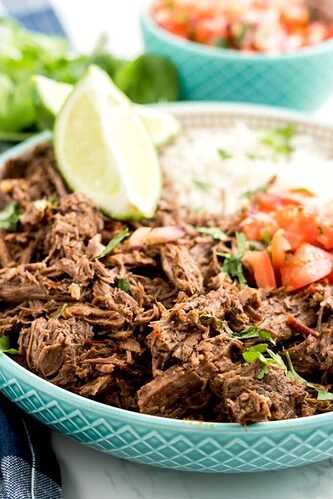 2 teaspoons kosher salt, divided
3-4 pound chuck roast, fat trimmed
2 tablespoons extra virgin olive oil
2 bay leaves
Sauce
¼ cup apple cider vinegar
6 cloves garlic
4 teaspoons ground cumin
1 tablespoon dried oregano
1 teaspoons ground black pepper
1/8 teaspoon ground clove
4 chipotle peppers (from a can, packed in adobo sauce)
1 tablespoon adobo sauce (from the chipotle pepper can)
1 cup chicken broth (or 1 cup water and 1 teaspoon chicken base)
¼ cup fresh lime juice
Prepare roast. Make sure all visible fat is trimmed. Cut into 8 chunks. Sprinkle all sides of cut beef with ½ of the salt (1 teaspoon), reserving the remaining 1 teaspoon. Set aside.
In a blender or food processor combine the sauce ingredients. Blend until smooth. Set aside. If you do not have a food processor or blender, see cook's note.
Warm a heavy bottom pot over medium high heat, until water dripped over top sizzles. Add oil. Sear all sides of cut beef. Once all sides are seared, place seared beef into slow cooker. Set slow cooker temperature to high. Pour sauce over top. Add bay leaves. Cook for 5-6 hours on high (or 8 hours on low) covered.
After about 5 hours (or 7 hours on low) shred beef using 2 forks to pull it apart. Stir to completely coat in sauce, cover and cook for 1 more hour. After this time you can serve and enjoy or turn slow cooker to warm until ready to serve.