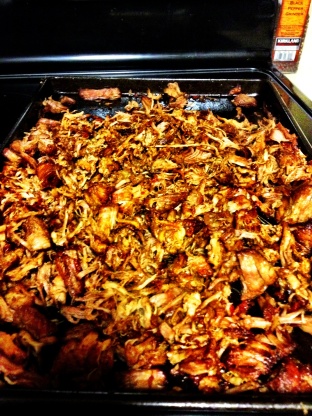 1 (5-6 lb) boneless pork shoulder
2 tablespoons olive oil
1 onion, chopped
4 medium tomatoes
4-6 cloves garlic
1 teaspoon cumin
2-4 sprigs fresh oregano
2 whole cloves
2 bay leaves
2-3 tsp dried chipotle flakes or 1-2 dried chipotle peppers (depending on how hot you like it)
¾ cup water
1 tsp chicken or beef bouillon
1 teaspoon salt
1 teaspoon pepper
Heat olive oil in large pan over medium-high heat. Add pork and brown all sides.
Let rest 10- 15 minutes while preparing other ingredients.
Chop tomatoes, garlic and oregano. Place pork in slow cooker and add all ingredients on top of pork
Cook on low 6-9 hours.
Remove bay leaves and whole cloves (and chipotle peppers if you used whole peppers). Remove pork to cutting board, leaving juices in crock pot. Shred meat and return to juices in the crock pot.
Serve your pork carnitas in a burrito, atop rice, in a salad, or any other way you can come up with. Top with shredded Monterey Jack cheese, sour cream, fresh corn salsa, guacamole, salsa, etc.