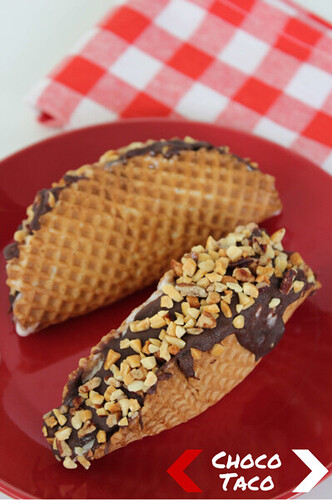 4 Waffle Bowls
1 Pint Fudge Ripple Ice Cream (or your favorite flavor!), Softened
¼ Cup Peanuts, Finely Chopped
6 oz Chocolate Candiquik
Wrap waffle bowls in a dampened paper towel.
Heat in the microwave for 15-20 seconds, or until soft.
Gently reshape into a taco. Allow to cool/harden for 5-10 minutes.
Fill tacos with ice cream. Put in freeze for 15 minutes or until hardened.
Melt Candiquik in the microwave until smooth, stirring frequently.
Spoon chocolate over the edges of the taco and the exposed ice cream on top.
Sprinkle with peanuts.
Return to freezer until ready to serve.