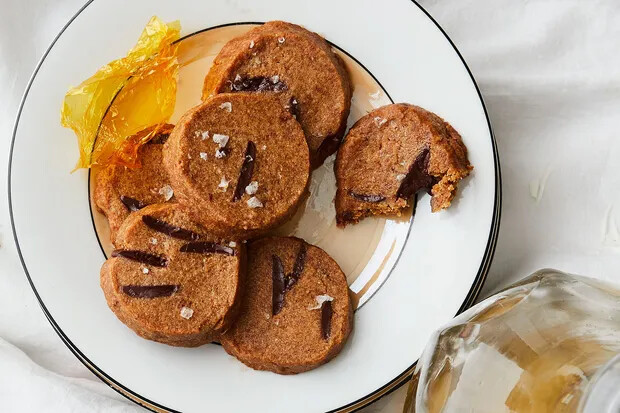 3/4 cup skin-on almonds
Nonstick vegetable oil spray (optional)
1/3 cup granulated sugar
5 tablespoon unsalted butter
3/4 cup all-purpose flour
1/2 teaspoon kosher salt
1/4 teaspoon baking soda
1/3 cup (packed) light brown sugar
1 large egg yolk
1 teaspoon vanilla extract
1/3 cup bittersweet chocolate wafers (disks, pistoles, fèves) or chocolate chips
Flaky sea salt
Place racks in upper and lower thirds of oven; preheat to 350°F. Toast almonds on a rimmed baking sheet on upper rack, tossing halfway through, until slightly darkened in color and fragrant, 6–8 minutes. Let cool.
Gather almonds into a tight pile on a nonstick silicone baking mat or a rimmed baking sheet coated with nonstick spray. Cook granulated sugar in a small saucepan over medium heat, undisturbed, until it begins to liquefy and turn golden brown around the edges. Use a heatproof rubber spatula to incorporate melted sugar into unmelted sugar and continue to cook, stirring occasionally, until all sugar is melted and caramel turns a medium amber color, 6–8 minutes. Carefully pour caramel over almonds and let cool.
Break almond mixture into large pieces and transfer to a food processor. Process, scraping down sides occasionally, until praline paste is very smooth and creamy (it should be as smooth as peanut butter with a slightly oily sheen; this takes time, so be patient), 12–16 minutes.
Cook butter in a medium skillet over medium heat, swirling occasionally, until it foams, then browns, about 5 minutes. Let cool until just warm.
Whisk flour, kosher salt, and baking soda in a medium bowl. Using an electric mixer on medium-high speed, beat brown butter, praline paste, and brown sugar in a large bowl until mixture is smooth, about 2 minutes. Reduce speed to medium, add egg yolk and vanilla, and beat just to combine. Reduce speed to low and gradually add dry ingredients. Mix until mostly combined. Using a wooden spoon, mix in chocolate. Scrape out dough onto a sheet of parchment paper and roll up into a 1 3/4"-diameter log. Chill until very firm, at least 2 hours.
Reheat oven to 350°F. Slice dough into generous 1/4"-thick slices with a serrated knife and place on 2 parchment-lined baking sheets, spacing 1" apart. Sprinkle with sea salt and bake until cookies are firm around the edges and slightly darker, 9–10 minutes. Let cool on baking sheets.