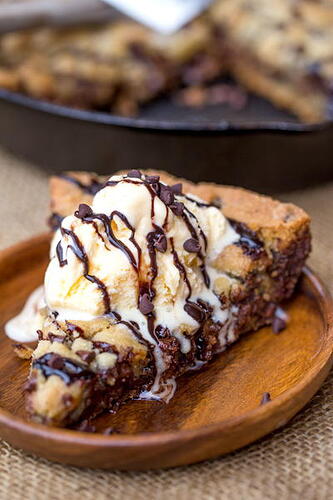 1 cup butter, softened
1 cup granulated sugar
½ cup packed brown sugar
1 tablespoon vanilla
2 eggs
2¾ cup flour
1 teaspoon baking soda
½ teaspoon table salt
1 cup Nestle Semisweet Chocolate Chips
½ cup Nestle Milk Chocolate Chips
1/2 cup chocolate covered caramel candies
coarse sea salt to finish
Vanilla Ice Cream
Chocolate Ganache
Preheat the oven to 350 degrees and spray a 10" cast iron skillet with baking spray.
Cream the butter, sugar and brown sugar on high in your stand mixer until pale and fluffy (2-3 minutes).
Add in the vanilla and eggs and combine on medium speed until fully incorporated.
Add in the flour, baking soda and table salt until just combined.
Add in the chocolate chips (yes it is totally fine to use all of one variety if you'd like) and mix for just a few seconds.
In the cast iron skillet add half your cookie dough.
Sprinkle on the chocolate covered caramels.
Add the rest of the dough evenly to cover all the caramels.
Sprinkle a few more chocolate chips if desired.
Cover with foil and bake for 20 minutes.
Uncover and bake for an additional ten minutes.
Let cool for five minutes so slices can be easily served.
Top with Vanilla Ice Cream, Chocolate Ganache or extra Chocolate Chips.