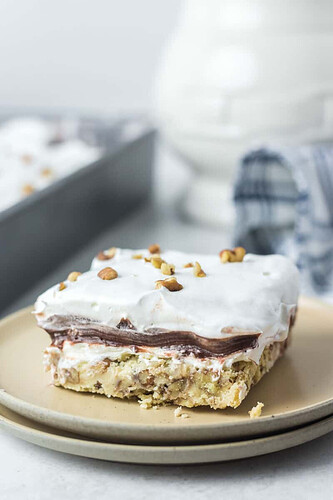 1 cup all-purpose flour
1 cup chopped pecans
1 stick butter (1/4 pound) softened
8 ounces cream cheese softened
1 cup powdered sugar
16 ounces Cool Whip divided
3 cups milk
2 packages instant chocolate pudding mix 3.5 ounces each
Preheat the oven to 350°F, and grease a 9×13-inch baking dish.
Place the flour, pecans, and butter in a medium bowl. Mix thoroughly and press into the bottom of the greased baking dish.
Bake the crust for 20 minutes. Then place the dish on a wire rack to cool.
Place the cream cheese, powdered sugar, and half of the Cool Whip into a medium bowl.
Use an electric mixer to beat until well combined and smooth.
Spread the mixture over the cooled crust and refrigerate.
Place the milk and chocolate pudding mix in a large bowl.
Using an electric mixer, beat for 3 minutes at low speed until thickened and glossy.
Spread the chocolate pudding evenly over the cream cheese layer in the dish.
Refrigerate until the pudding is set.
Spread the remaining 8 ounces of Cool Whip evenly over the chocolate layer, and refrigerate until ready to serve.