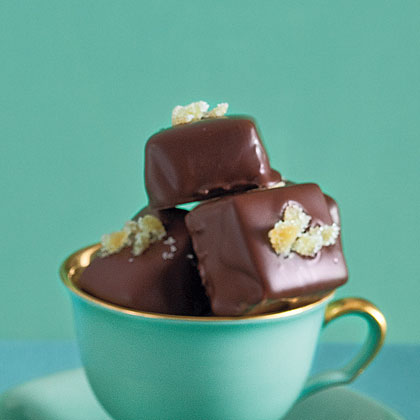 1 cup sugar
1 cup dark corn syrup
1 cup butter
1 (14-oz.) can sweetened condensed milk
1 teaspoon vanilla extract
1 (12-oz.) package semisweet chocolate morsels
2 tablespoons shortening
Wax paper
Chopped crystallized ginger (optional)
Coarse sea salt (optional)
Bring first 3 ingredients to a boil in a 3-qt. saucepan over medium heat; cook, without stirring, 7 minutes.

Stir in condensed milk, and bring to a boil over medium heat; cook, stirring constantly, until a candy thermometer registers 238° to 240° (soft ball stage), about 20 to 25 minutes.

Remove from heat, and stir in vanilla. Pour into a buttered 8-inch square pan. Let stand at room temperature 8 hours.

Invert caramel onto a cutting board; cut into 1-inch squares using a bench scraper or knife.

Cook chocolate and shortening in a saucepan over medium heat 3 to 5 minutes until melted and smooth. Remove from heat. Toss caramels in chocolate mixture, in batches, until thoroughly coated, using a fork. Transfer to wax paper. Sprinkle with crystallized ginger or coarse sea salt, if desired. Chill 1 hour. Let stand at room temperature 30 to 45 minutes before serving. Store leftovers in refrigerator up to 5 days.
Southern Living