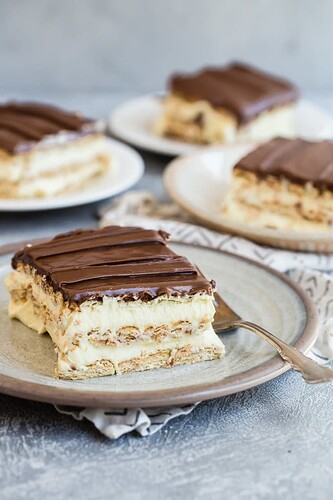 2 (3.4 ounce) packages instant vanilla pudding mix
3 1/2 cups milk
1 (8 ounce) container whipped topping thawed
1 box graham crackers
1 can dark chocolate frosting
In a medium bowl, whisk together pudding mix and milk until smooth. Fold in whipped topping.
Line bottom of a 9-inch x 13-inch pan with a single layer of graham crackers, breaking some if necessary to fill the layer. Pour half the pudding mixture over the crackers and spread evenly.
Top with another layer of crackers. Pour the remaining pudding mixture over the second layer of crackers and top with a third layer of crackers.
Carefully spread the frosting over the top layer of graham crackers. Refrigerate at least 8 hours or overnight. Serve chilled and store any leftovers covered in the refrigerator.