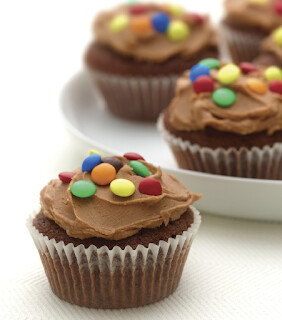 Ingredients
FOR THE CAKES
125g/5oz soft butter
125g/5oz golden caster sugar
3 medium eggs
100g/4oz self-raising flour
25g/1oz cocoa, sifted
FOR THE FROSTING
75g/3oz milk chocolate, broken
75g/3oz soft butter
150g/5oz icing sugar sifted
Chocolate flake or sweets to decorate
Method
Heat oven to 190°C/fan 170°C/gas 5 and put 12 cases into a 12 cup bun tray. Tip all the ingredients for the cake into the mixer bowl and using the k beater start on speed 1-2 and then increase to max for 2 minutes until smooth. Divide between the cases so they are three quarters filled, then bake for 12-15 minutes until risen. Cool on a wire rack.
For the frosting, microwave the chocolate on high for 1-2 min until melted. Cream the butter and sugar
together in the mixer bowl with k beater, then beat in the melted chocolate. Spread on the cakes and decorate with the chocolate or sweets.