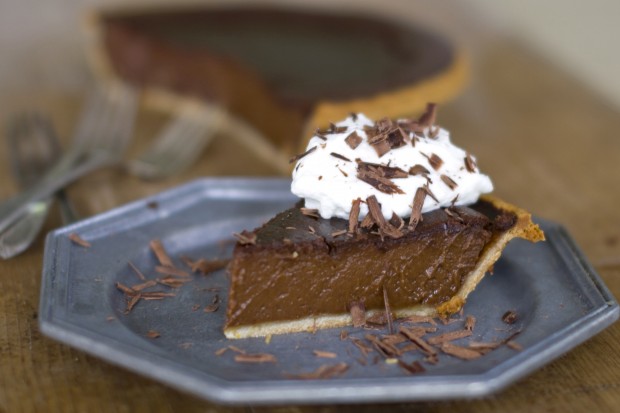 Chocolate Midnight Pumpkin Pie
This pumpkin pie recipe combines chocolate and pumpkin into a perfectly rich treat that honors tradition while satisfying the need for chocolate.
No longer must you choose between your favorite dessert (chocolate) and the traditional choice (pumpkin pie) on Thanksgiving. We have combined these two into a perfectly rich and chocolaty treat that honors tradition while satisfying your real cravings.
This simple pie also can be dressed up. Whipped cream is an obvious choice, as are chocolate or
vanilla ice cream. Take it even further with a drizzle of warm chocolate sauce, warm maple
syrup, or warmed pumpkin butter.
Prep time: 10 minutes
Cook time: 1 hour
Ingredients:
1 cup heavy cream
6 ounces semi-sweet chocolate bits
15-ounce can pumpkin puree
1/2 cup packed dark brown sugar
1 teaspoon cinnamon
1 teaspoon ground dry ginger
1/2 teaspoon ground cloves
1/2 teaspoon ground allspice
1/4 teaspoon nutmeg
1/2 teaspoon salt
2 eggs
1 prepared (raw) 9-inch deep-dish pastry pie crust
Directions:
Heat the oven to 350 F.

In a small saucepan over medium-high, heat the cream until just bubbling. Remove from the
heat and add the chocolate bits. Stir until completely melted and smooth.

In a medium bowl, whisk together the pumpkin, brown sugar, cinnamon, ginger, cloves, allspice, nutmeg, salt and the chocolate-cream mixture. Add the eggs, whisking until everything is thoroughly combined.

If it isn't already, fit the pie crust into a 9-inch deep pie pan. Pour the pumpkin mixture into the crust. Bake for 50 to 60 minutes, or until the center is set and no longer jiggles.
Servings: 8
Nutrition per serving (values are rounded to the nearest whole number): 390 calories (210 calories from fat - 53% of total calories); 24g fat; 13g saturated fat; 100mg cholesterol; 43g carbohydrate; 5g protein; 3g fiber; 240mg sodium.
Source: Associated Press