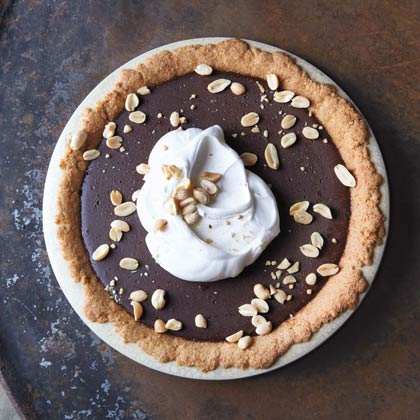 For the crust
1/4 cup salted, roasted peanuts (finely ground in a food processor or crushed in a bag with a rolling pin)
2 tablespoons sugar
3/4 cup graham cracker crumbs (finely ground in a food processor)
4 tablespoons (2 oz) unsalted butter, melted
1.5 ounces bittersweet chocolate, finely chopped
For the filling
1/3 cup sugar
1/3 cup unsweetened cocoa powder, preferably natural
2 tablespoons cornstarch
1/8 teaspoon salt
1 3/4 cups whole milk
3 ounces bittersweet or semisweet chocolate, finely chopped
1 teaspoon pure vanilla extract
Classic Whipped Cream, optional
2 tablespoons salted, roasted peanuts, optional
Position rack in lower third of the oven; preheat to 350°F.

To make the crust: Blend peanuts, sugar, graham cracker crumbs, and butter in mixing bowl until moistened. Spread in a 9-inch pie plate, using the bottom of a glass to press evenly over the bottom and up the sides. Bake until crust begins to set and colors slightly (12-14 minutes). If it puffs up while baking, press gently with the back of a fork.

Remove from oven, sprinkle chopped chocolate over bottom, and let soften for 1-2 minutes. With a pastry brush or back of a spoon, spread chocolate evenly all over. Cool, then chill until chocolate sets (about 30 minutes).

To make the filling: Whisk sugar, cocoa, cornstarch, and salt in a heavy medium saucepan. Add 3 TBSP of milk; whisk into a smooth paste. Whisk in remaining milk. Cook over medium heat, stirring constantly with a wooden spoon or spatula, scraping sides, until it thickens and bubbles at edges (about 5-8 minutes). Continue to cook and stir for 1 minute; add chocolate and stir briskly until melted and pudding is smooth (30 seconds more). Remove from heat; stir in vanilla. Scrape into crust and level it with a spatula. Let cool for 1 hour, then refrigerate. Once filling is cool, cover and chill for several hours, or overnight. Top with Classic Whipped Cream; sprinkle with peanuts, if desired.