Chef Jorge Adriazola of Cienega Restaurant in New Rochelle, NY shared this Secret Recipe with Good Day NY. Cienega features a modern Latin fusion menu that has been highly praised. This easy to prepare recipe will show you how to make a sesame crusted tuna steak that is seared evenly on all sides. A vibrant tomatillo sauce is served with this tuna.
To complete your meal, serve this delicious quinoa-vegetable salad with your tuna.
Enjoy
=-=-=-=-=-=-=-=-=-=-=-=-=-=-=-=-=-=-=-=-=-=
The Alpine Secret For Healthy Weight Loss.
=-=-=-=-=-=-=-=-=-=-=-=-=-=-=-=-=-=-=-=-=-=
=-=-=-=-=-=-=-=-=-=
New Secret Recipe
=-=-=-=-=-=-=-=-=-=
Cienega's Sesame Crusted Seared Tuna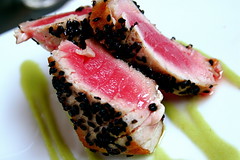 Ingredients:
1 good quality square tuna steak
black, white and red sesame seeds
4 tomatillos clean and peeled
2 roasted garlic cloves
1/2 avocado
1/4 cup of champagne vinegar or any other vinegar
1 jalapeno without seeds or veins
1/2 spanish onion
1 tablespoon of cilantro minced
1 tablespoon of parsley minced
4 leaves of basil
1 tablespoon of extra virgin olive oil
Salt, pepper
Instructions:
Coat the tuna steak on all sides with the sesame seeds.

Add olive oil to a sauté pan over medium. Then add the tuna steak and sear for 2 minutes on each side. Let rest a minute and then slice the tuna.

In another sauté pan over medium heat add some olive oil. Sauté the onions for 2 minutes.

In a blender, combine the tomatillos, onions, roasted garlic, avocado, jalapeno, cilantro, parsley, basil and champagne vinegar. Blend until smooth. Transfer to a saucepan and heat on medium. Season with salt and pepper.

Serve the tuna with the tomatillo sauce.
Serves 2
Source: Good Day New York
Like Copycat Recipes? Get our Secret Recipes Cookbook Here.
Enjoy!
Until Next Time… Be Well!
Kind Regards,
RSN