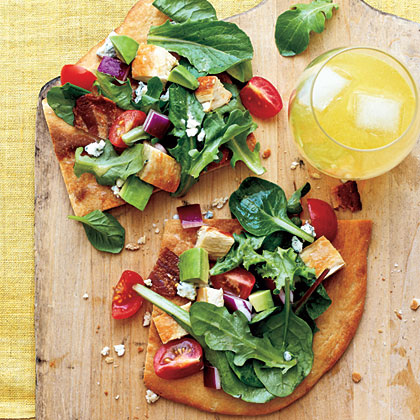 1 (11-ounce) can refrigerated thin-crust pizza dough
Cooking spray
1/4 cup (1 ounce) crumbled blue cheese, divided
1 tablespoon extra-virgin olive oil
1 tablespoon white wine vinegar
1/2 teaspoon Dijon mustard
1/4 teaspoon black pepper, divided
2 slices applewood-smoked bacon
8 ounces skinless, boneless chicken breast cutlets
1/2 cup quartered cherry tomatoes
2 tablespoons chopped red onion
2 cups lightly packed mixed baby greens
1/2 cup diced peeled avocado
Preheat oven to 425°.

Unroll dough on a baking sheet coated with cooking spray; pat dough into a 14 x 12-inch rectangle. Lightly coat dough with cooking spray. Bake at 425° for 8 minutes or until golden. Remove from oven; sprinkle evenly with 2 tablespoons cheese. Set aside.

Combine oil, vinegar, mustard, and 1/8 teaspoon pepper in a large bowl; stir with a whisk.

Cook bacon in a large nonstick skillet over medium heat until crisp. Remove bacon from pan; crumble bacon into oil mixture. Wipe pan clean with paper towels. Heat pan over medium-high heat. Coat pan with cooking spray. Sprinkle chicken with remaining 1/8 teaspoon pepper. Add chicken to pan; cook 4 minutes on each side or until done. Remove chicken from pan; chop into 1/2-inch pieces.

Add chicken, tomatoes, and onion to oil mixture; toss gently to combine. Add greens; toss gently. Top crust evenly with chicken mixture, avocado, and remaining 2 tablespoons cheese. Cut into 8 pieces.