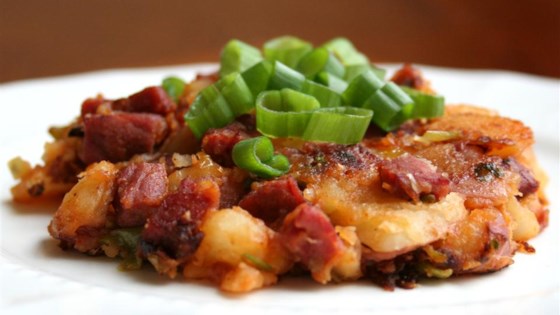 1 1/2 pounds potatoes, peeled and quartered
1 1/2 pounds cooked corned beef, finely chopped
1 bunch green onions, chopped
salt and ground black pepper to taste
2 cloves garlic, crushed
1 tablespoon butter
1/4 cup roasted tomato salsa
Place potatoes into a large pot and cover with salted water; bring to a boil.
Reduce heat to medium-low and simmer until almost tender but still firm, about 15 minutes.
Drain and finely chop.
Cook beef in a large cast-iron or non-stick skillet over medium heat until fat begins to render.
Stir green onions, salt, and pepper into beef.
Add garlic and butter; cook and stir until butter is melted and garlic is fragrant, 1 to 2 minutes.
Stir potatoes, salsa, and a pinch of salt into beef mixture.
Pat mixture down in the skillet with a spatula and divide hash into 4 sections.
Cook, without stirring, until a crust forms on the bottom, about 5 minutes.
Flip sections and cook until a crust forms on the bottom again, about 5 minutes more.
Repeat cooking and flipping process, flipping every 5 minutes, until hash stays together and has a golden crust, 10 to 15 minutes.
Chef John