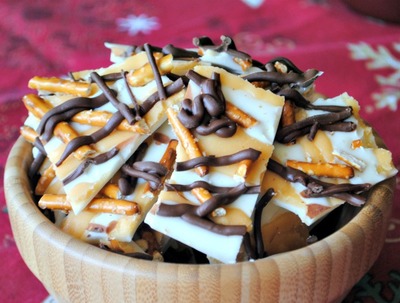 1/4 cup butter
1/4 cup brown sugar
1 1/2 Tbsp milk
1/4 tsp vanilla extract
1/2 cup powdered sugar
1/2 tsp kosher salt
16 oz vanilla candy coating
3/4 cup milk chocolate morsels
1 1/2 cup pretzels, broken
In large saucepan melt butter. Add brown sugar and milk. Cook on medium for 2 minutes. Remove from heat and whisk in vanilla and powdered sugar. Set aside.
Melt candy coating according to package directions. Pour on a parchment paper lined cookie sheet. Spread evenly.
Drizzle caramel sauce over melted candy coating. Sprinkle with kosher salt. Top with broken pretzels (press them into bark, lightly). Melt milk chocolate according to package. Drizzle over bark. Allow to set about one hour.
Break into pieces and enjoy!