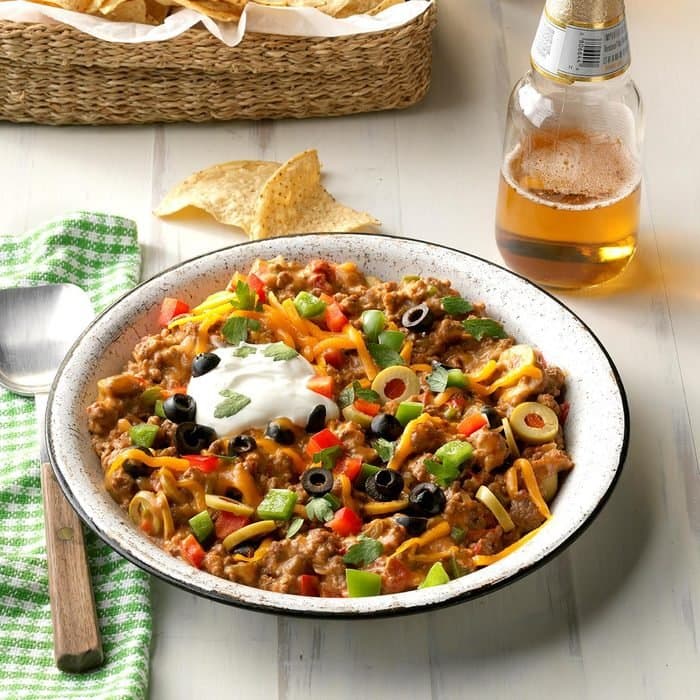 1 pound ground beef
4 tablespoons chopped onion, divided
3 tablespoons chopped sweet red pepper, divided
2 tablespoons chopped green pepper, divided
1 can (10-3/4 ounces) condensed nacho cheese soup, undiluted
1/2 cup salsa
4 tablespoons sliced ripe olives, divided
4 tablespoons sliced pimiento-stuffed olives, divided
2 tablespoons chopped green chiles
1 teaspoon chopped seeded jalapeno pepper
1/4 teaspoon dried oregano
1/4 teaspoon pepper
1/4 cup shredded cheddar cheese
2 tablespoons sour cream
2 to 3 teaspoons minced fresh parsley
In a large skillet, cook the beef, 3 tablespoons onion, 2 tablespoons red pepper and 1 tablespoon green pepper over medium heat until meat is no longer pink, breaking it into crumbles; drain. Stir in the soup, salsa, 3 tablespoons ripe olives, 3 tablespoons pimiento-stuffed olives, chiles, jalapeno, oregano and pepper. Bring to a boil. Reduce heat; simmer, uncovered, for 5 minutes.
Transfer to a serving dish. Top with the cheese, sour cream and parsley; sprinkle with the remaining onion, peppers and olives. Serve with tortilla chips.