Cracker Barrel Baby Limas
Today's Secret Recipe is from Cracker Barrel. Great breakfast food and home-style dinners. I normally order the ham and a side of baby limas with a cold root beer. I make this at home when I cook pork roast.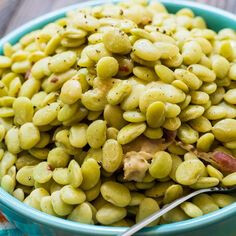 Ingredients:
1 Chicken Bouillon Cube
1 c. water
1 strip bacon
2 pinches red pepper flakes
1 clove garlic, peeled and lightly smashed
1 16oz. bag frozen baby limas
Directions:
Bring water and bouillon to boil.

Add all ingredients. Cover pan and turn heat to simmer. Cook at least 25 minutes.

Salt and pepper to taste. Serve.
Enjoy!
Until Next Time… Be Well!
Kind Regards,
RSN
Like this recipe? Get our Secret Recipes Cookbook Here