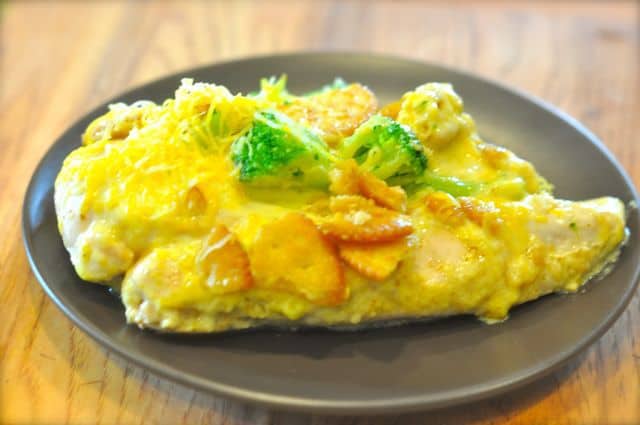 4 medium boneless skinless chicken breasts
2 cups frozen or fresh broccoli florets
2 tsp seasoned salt
1 1/2 cups Ritz cracker crumbs (about 1 sleeve)
3 tbs butter, melted
1/2 cup shredded sharp cheddar
Sauce:
1 cup evaporated milk
1 tbs butter
1 1/2 cups cubed Velveeta
Preheat oven to 350 degrees F. Lightly spray or grease the bottom of a 11 x 7-inch baking pan.
Place chicken breasts in prepared pan. Sprinkle seasoned salt over the chicken breasts. Set aside while making sauce and buttered crumbs.
Place sauce ingredients in a medium microwave-safe bowl. Microwave on HI in 30 second intervals stirring after each 30 seconds, until Velveeta is melted and sauce is smooth.
Prepare buttered crumbs by processing the crackers either in a food processor or placing them in a bag and using a rolling pin. Be careful not to overprocess the crumbs!! You want some larger pieces in there for the crunch factor!! Drizzle with the melted butter and stir until all the crumbs are coated.
Pour half the sauce over the chicken breasts. Add broccoli evenly across the top of chicken. Pour remaining cheese sauce over broccoli and chicken. Top with the buttered cracker crumbs.
Bake at 350 degrees F for 40-45 minutes, or until chicken test done (180 degrees F) in the thickest part.
Remove from oven and top with the shredded cheddar.