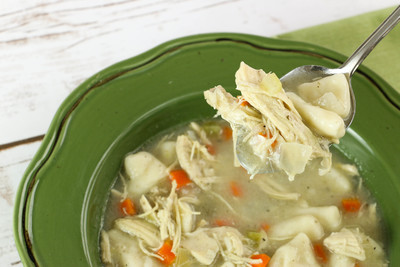 For Chicken Stock:
1 chicken, cut up or whole
3 carrots, peeled and cut in half
4 stalks of celery, cut in half
1 onion, peeled and cut in half
1 teaspoon dried thyme
2 teaspoons dried sage
salt and pepper, to taste
For Dumplings:
2 cups flour
1 teaspoon baking powder
1 teaspoon salt
3 tablespoons crisco
3/4 cup milk
1 small onion, diced
1/2 teaspoon dried sage
salt and pepper, to taste
For Stock:
Place all ingredients for the chicken stock in a large stock pot. Fill with water until all the ingredients are covered.
Bring the ingredients to a light simmer and let simmer over low heat for about 2 hours. Then remove the pieces of chicken and set aside. Strain the rest of the stock, discarding all the vegetables. After the chicken cools cut into pieces or shred, depending on how you like your chicken and dumplings.
For Dumplings:
Mix together all of the dumpling ingredients in a mixing bowl until they come together and form a ball. Add more flour if dough is too sticky and more milk if dough is too dry.
Place the ball of dough on a floured surface. Knead a few times until smooth. Roll out the dough to about 1/8 inch thick.
Cut the rolled out dough into slices, then smaller bite-sized pieces.
To Assemble:
Heat the remaining ingredients in a large pot with 6 cups of the strained stock. Add the reserved chicken. Add more water if the ingredients are not covered. Bring to a boil.
Put the heat on low and add the cut-up dumplings.
Simmer on low for 30 minutes or until dumplings are cooked through and the broth has thickened.
If the broth is not thick enough, create a slurry by mixing together 1 teaspoon of flour and a 1/4 cup water in a small bowl. Then whisk into the broth and let simmer an additional 5 minutes.