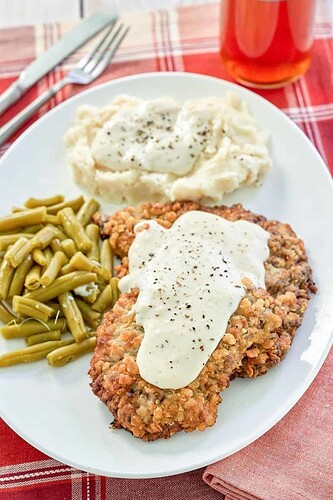 oil for frying
1½ cups all-purpose flour
½ cup saltine cracker crumbs
1½ teaspoons salt
2 teaspoons ground black pepper
1 cup buttermilk
1/2 cup water
1 pound tenderized cube steaks
Pour 3 to 4 inches of oil into a deep fryer or large pot and heat the oil to 350 degrees.
Prepare seasoned flour by combining the flour, cracker crumbs, salt, and pepper in a shallow dish. Stir to combine well.
In another shallow dish combine buttermilk and water.
Dredge the cube steaks in the seasoned flour and shake off the excess flour.
Dip the flour-coated pieces of cube steak into the buttermilk and shake off excess.
Dredge the dipped cube steak into the seasoned flour.
Place the breaded steak on a wire rack resting on a baking sheet.
Allow the breading to sit for five minutes. This helps to set the breading on the steak.
Place the breaded cube steaks into the hot oil. Fry the steak for 3 to 5 minutes, the sides of the meat should start to brown. The top of the meat should start to cook before you flip. When you flip be sure flip gently, and do so away from yourself, to avoid splashing hot oil onto you.
Fry for 3 to 5 minutes on the other side. Both sides should be browned and crispy.
Remove the steak from the hot oil, and drain on a clean wire rack resting on a baking sheet.