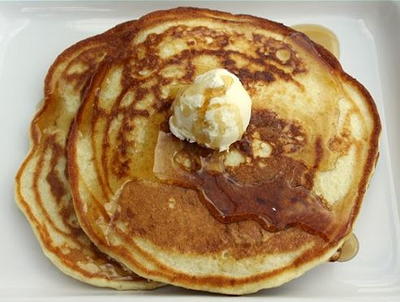 2 cups all purpose flour
1 teaspoon baking soda
1 teaspoon salt
1 tablespoon sugar
1 egg
2 cups of full fat buttermilk
Vegetable oil for cooking
whipped butter
Maple syrup
(1) Preheat your griddle or pan.
(2) Mix well all of the dry ingredients together.
(3) Mix in the buttermilk to the dry ingredients.
(4) In a separate bowl, crack the egg and whisk it incorporating air into the egg until it is light and bubbly. Eggs that are not straight out of the fridge will whip up easier.
(5) Add the egg to the other ingredients and mix together JUST to incorporate. Do not over mix.
(6) Grease the griddle with a bit of vegetable oil for each set of pancakes*
(7) Drop approx. 1/2 cup + a little bit more of the batter onto the hot griddle and spread it out. Cook until the bottom side is golden. Flip and repeat.
(8) Serve with butter and warm maple syrup.
Tips:
(1) I cook these with a bit vegetable oil instead of butter. While butter gives flavor it tends to burn too easily. If you choose to use salted butter for cooking instead of oil, reduce the amount of salt in the recipe to 3/4 teaspoon.
(2) Don't have buttermilk?
I recommend using actual buttermilk for this recipe. However, you can still make these pancakes, by using this buttermilk substitute:
Use one tablespoon of lemon juice or white vinegar and add enough whole milk to make one cup. Let this mixture stand for about five minutes.
(3) Pancake tip - using a griddle:
If your family likes pancakes, using a griddle as opposed to a pan is a huge time savings. By using a griddle, you can make 6-8 pancakes in the time you can make 1 pancake in a pan. I have owned a Presto Cool Touch for years and I like it. All of the electrical components are on the inside so you can wash it with soap and water. It is easy to use and easy to clean.