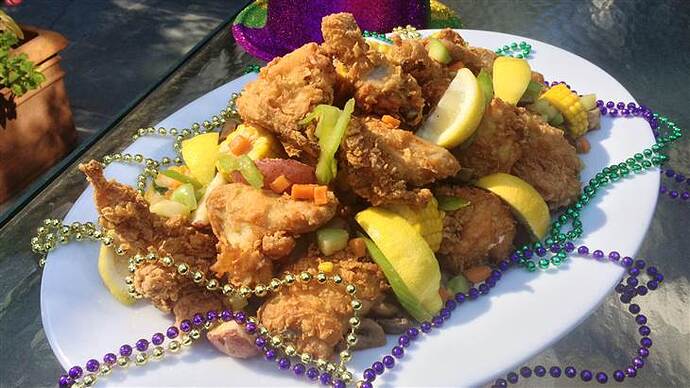 Ingredients for the fried chicken:
2 3 1/2 to 4 pound chickens (8 pieces each)
2 quarts cold water
4 tablespoons Zatarain's Crawfish, Shrimp and Crab Boil
3 cups flour (divided)
3 teaspoons salt (divided)
1 1/2 teaspoons black pepper (divided)
1 teaspoon Creole seasoning
Combine the chicken, water and crab boil in a large pot and marinate chicken overnight or at least 16 hours.
Remove chicken from brine and pat the skin dry. Combine 1 cup flour, 1 teaspoon salt and 1/2 teaspoon black pepper and coat the chicken with the mixture. Place coated chicken on a sheet pan in a single layer and allow to sit in the refrigerator for at least 2 hours (this will help pull excess water from the chicken and create a crispier skin).
Season 2 cups of flour with 2 teaspoons salt, 1 teaspoon black pepper, and 1 teaspoon Creole seasoning. Toss the chicken in the new flour mixture to coat liberally and shake off excess flour. Fry chicken at 350 degrees F for 12-14 minutes. Strain and season with more salt and pepper to taste.
Ingredients for the Crab Boiled Vegetables:
3 celery ribs, cut in 1 1/2 to 2 in pieces
3 ears of corn (leave on cob) cut into 1 inch thick rounds
2 small red onions (peeled) and cut into 8 pieces each through root top to bottom
4 medium red potatoes, cut into 4 pieces each
1 lemon cut into 8 wedges
1 orange cut into 8 wedges
1 cup Crystal hot sauce
2 tablespoons Zatarain's Crawfish, Shrimp and Crab Boil
1 tablespoon salt
1/2 tablespoon black pepper
3 bay leaves
3 quarts cold water
1/4 cup lemon olive oil
1 bunch flat leaf parsley, roughly chopped
Combine first 11 ingredients through bay leaves in a pot of water and marinate overnight in refrigerator.
Place pot on stove and bring to a boil over high heat. Then lower heat and simmer for 25-30 minutes or until potatoes are tender.
Strain vegetables and discard liquid. Place strained vegetables in a bowl and toss with 1/4 cup of lemon olive oil and 1 bunch of roughly chopped flat leaf parsley. Season with salt and pepper to taste.
Place vegetables on a large serving platter and arrange the fried chicken over the top.
Tory McPhail, the executive chef of the world famous Commander's Palace restaurant in New Orleans