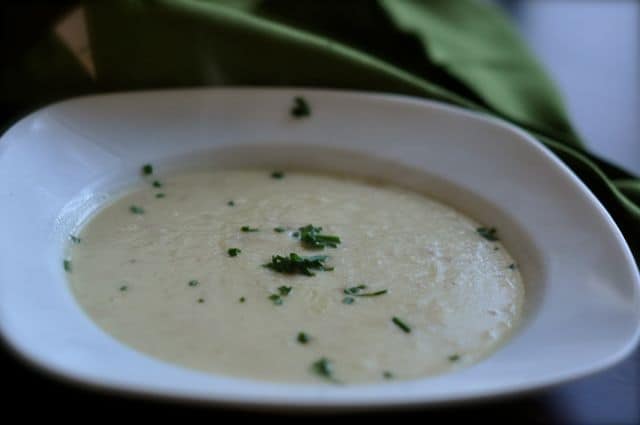 2 cups of sliced leeks
4 ounces of bacon, sliced into 1/2 inch pieces
2 tablespoons butter, optional
2 1/2 pounds of potatoes - peeled and cut into small pieces
24 ounces chicken stock
12 ounces of water
8 ounces of heavy cream
salt and pepper to taste
In a large soup pot add sliced leeks and bacon. Cook on a medium heat, until leeks are transparent. If you are using very lean bacon you may need to add 2 tablespoons of butter, the leeks should not burn. (If there is not enough fat from the bacon that is rendered out, the leeks will burn.) Add potatoes to the pot, and then add chicken stock. If all of your chicken stock fully covers the potatoes, then you do not need to add additional water. Cook potatoes until tender, this will take about 15-20 minutes. When the potatoes are fully cooked remove a cup or two of the liquid and use an immersion blender to puree soup. If you do not have an immersion blender you can use a regular blender. Add heavy cream and stir. Taste and season with salt and pepper.