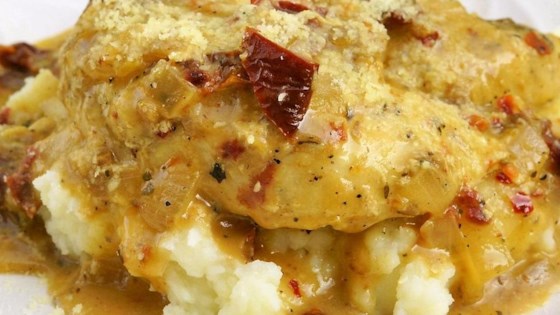 1 package Idahoan Mashed Potatoes
2 tablespoons olive oil
6 frozen chicken tenders
1 teaspoon salt, or to taste
1/2 teaspoon ground black pepper
1 teaspoon Italian seasoning
1/2 teaspoon dried oregano
1/2 teaspoon red pepper flakes
1/2 onion, diced
1/4 cup sun-dried tomatoes packed in oil, drained and diced
2 cloves garlic
1 tablespoon butter
1 tablespoon all-purpose flour
3/4 cup dry white wine 1/2 cup milk
1/2 cup finely grated Parmesan cheese
1/2 teaspoon white sugar
Heat olive oil in a skillet over medium-high heat; add frozen chicken tenders. Season with Italian seasoning, salt, oregano, black pepper, and red pepper flakes.
Cook until tenders are browned and no longer pink inside, 8 to 10 minutes. An instant-read thermometer inserted into the center should read at least 165 degrees F (74 degrees C). Remove chicken tenders from the skillet.
Place diced onion in the same skillet over medium-high heat and cook until translucent, 5 to 8 minutes. Add sun-dried tomatoes and garlic; cook 1 minute longer.
Stir in butter and flour and cook for 1 minute. Add white wine and scrape any bits from bottom of the pan. Stir in milk, sugar and Parmesan cheese. Bring mixture back to a simmer; simmer until mixture begins to thicken, about 5 minutes. Transfer chicken back to skillet and cook until heated through. Prepare Idahoan Mashed Potatoes according to package directions, and
serve over.