Today's Secret Recipe comes from Crudo in Phoenix, Arizona. At Crudo, chef Cullen Campbell has an imaginative menu of Italian inspired small plates.
One of the signature dishes at Crudo is the squid ink risotto. This tasty risotto dish is dyed black with natural squid ink and is topped with pickled chiles.
We have some more delicious risotto recipes on our forum: Go Here
Enjoy!
=-=-=-=-=-=-=-=-=-=-=-=-=-=-=-=-=-=
Lose Weight While Still Enjoying Your Favorite Restaurants
Try this Water Hack
=-=-=-=-=-=-=-=-=-=-=-=-=-=-=-=-=-=
=-=-=-=-=-=-=-=-=-=-=
New Secret Recipe
=-=-=-=-=-=-=-=-=-=-=
Crudo's Squid Ink Risotto
Like this recipe? Check out our 5 Cookbooks on Sale – Go Here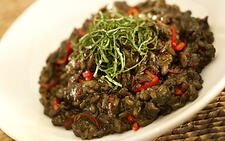 Pickled Chiles:
1 cup white balsamic vinegar
1/4 cup sugar
1 tablespoon salt
4 red Fresno chiles, sliced
In a saucepan, bring the vinegar, sugar and salt to a boil. Remove from heat and pour over the chiles in a glass bowl. Keep the chiles suspended in the liquid for three hours to pickle.
Squid Ink Risotto:
6 to 8 cups vegetable broth
3 tablespoons olive oil
1/2 onion, diced
3 cloves garlic, chopped
2 cups Carnaroli or arborio rice
1 cup white wine
1/2 cup heavy cream
1 tablespoon squid ink
1 cup sun-dried tomato (chopped)
1 cup drained and shredded oil-packed tuna
1/4 cup pickled chiles, diced
1/2 cup grated parmesan
Salt
1/4 cup basil, thinly sliced
Place the vegetable broth in a small pot and bring to a gentle simmer on the stove.

Meanwhile, heat the oil in a medium pot over medium-high heat. Add the onion and cook until softened, 4 to 6 minutes. The last minute or so, stir in the garlic and cook until aromatic. Add the rice and cook, stirring to lightly coat, about 2 minutes. Increase the heat to high, add the wine and cook until the wine is almost completely evaporated.

Add a ladleful of broth and cook, stirring constantly, until the broth is almost completely absorbed. Continue adding a ladle of broth as each is absorbed by the rice.

When the risotto is al dente, stir in the cream, squid ink, sun-dried tomatoes, tuna and pickled chiles. Cook, stirring until the flavors are married, then stir in the parmesan. Taste, and season if desired with salt. Serve the risotto in bowls, garnished with basil.
Serves 4
Source: Secret Recipe Forum
Get more secret restaurant recipes on our Secret Recipe Forum: Go Here
Until Next Time… Be Well!
Kind Regards,
RSN