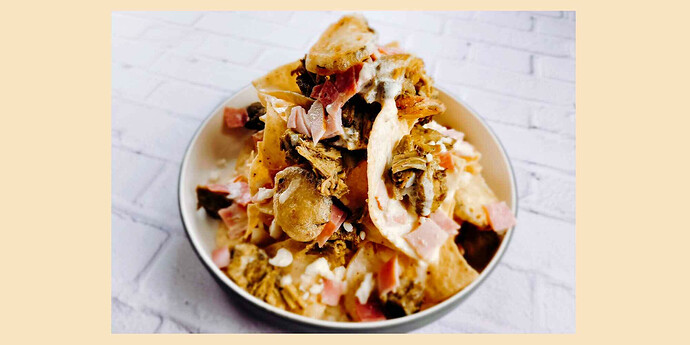 1/2 pound pork or Boston butt
1/2 cup orange juice, fresh squeezed
2 tablespoons lemon juice, fresh squeezed
1 tablespoon lime juice, fresh squeezed
2 teaspoons ground black pepper, divided
1 tablespoon kosher salt
1 teaspoon each dried thyme, oregano, garlic powder and onion powder
1/4 cup olive or vegetable oil
3 cups whole milk
1/4 pound Velveeta cheese, cubed
2 cups Swiss cheese, grated
1 tablespoon Dijon mustard
1 cup flour
1 teaspoon baking powder
1/2-3/4 cup soda water, cold
2 cups canola oil
1 cup dill pickle chips, drained
4 to 6 cups tortilla chips
1 cup carving or deli ham, diced
1 cup Genoa or hard salami, diced
Create a marinade for the mojo pork with the orange, lemon and lime juices, 1 teaspoon of the black pepper, salt, thyme, oregano, garlic, onion powders and olive or vegetable oil. Combine by whisking until well-mixed and pour all over the pork.
Allow the pork to marinate for at least 30 minutes or overnight.
Roast the pork and its marinade in the oven at 350 F in a roasting pan and rack covered with aluminum foil for 2 to 3 hours, or until fork-tender. The meat should pull apart easily when done.
Once the pork is roasted, allow to rest for 20 to 30 minutes uncovered. Using 2 forks, pull apart the meat and set aside.
While the pork is roasting, place the milk in a heavy bottom, lidded sauce pot. Bring the milk to a low simmer over medium heat.
Add the Velveeta while whisking a little bit at time. Repeat with the Swiss cheese.
Continue slow-whisking until the sauce reduces and slightly thickens, approximately 30 minutes.
Add the mustard, mix well and set aside.
Create a batter by whisking together the flour, baking powder, the remaining 1 teaspoon of black pepper and 1/2 cup of soda water. The batter should look like pancake mix. If it is too thick, add the extra soda water.10.
Preheat a frying pan with canola oil to 350 F. You can test the oil by adding a piece of stale bread and checking to see if it bubbles.
Dip the dill chips in the batter, allow to drain slightly and add to the frying oil gently. Cook until the batter sets on both sides and the chips turn light golden-brown. Using a slotted spoon or frying spoon, remove from the oil and drain in paper towels. Set aside.
To build your nachos: In a bowl dish, place tortilla chips piled up together and portioned out. Drizzle cheese sauce around the nachos, approximately 1/2 cup per dish. Top the nachos with the pulled mojo pork, diced ham and salami. Top with fried dill chips.
Notes
You can do this without any meat or substitute it for your favorite veggies or beans. Instead of oven-roasting, you can cook the mojo pork in a slow cooker. Set the marinated pork in the cooker and slow-cook following the settings. Pull apart once done. You can skip frying the dill chips and top the nachos with finely diced pickles.