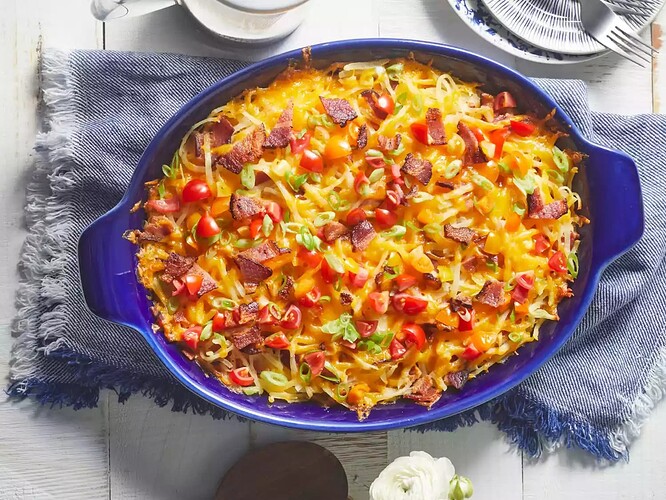 8 thick-cut bacon slices
½ cup chopped sweet onion
1 (32-oz.) pkg. frozen hash browns, thawed
10 oz. sharp Cheddar cheese, shredded (about 2 1/2 cups), divided
1 ½ tsp. kosher salt, divided
½ tsp. black pepper, divided
6 large eggs
1 (8-oz.) container sour cream
1 cup whole milk
Halved cherry tomatoes and chopped scallions, for garnish
Preheat oven to 350°F. Cook bacon in a large skillet over medium until crispy; transfer to a plate lined with paper towels to drain. Reserve 1 tablespoon bacon drippings in skillet. Add onion to skillet, and cook, stirring often, until tender, about 5 minutes. Remove from heat. Crumble 5 slices of the cooked bacon.
Stir crumbled bacon, hash browns, 2 cups of the shredded cheese, 1/2 teaspoon of the salt, and 1/4 teaspoon of the pepper into cooked onion in skillet until combined. Spoon mixture into a lightly greased (with cooking spray) 13- x 9-inch baking dish.
Whisk together eggs, sour cream, milk, and remaining 1 teaspoon salt and 1/4 teaspoon pepper in a large bowl. Carefully pour egg mixture over hash brown mixture. Cover with aluminum foil, and bake in preheated oven 40 minutes. Remove aluminum foil, and sprinkle evenly with remaining 1/2 cup cheese. Return to oven, and continue to bake until cheese is melted and casserole is bubbly, 10 to 15 minutes. Remove from oven, and let stand 10 minutes.
Crumble remaining 3 slices of bacon, and sprinkle over top of casserole. Garnish with halved tomatoes and chopped scallions.