Delectable Vegetable Dishes
The ultimate collection of Tasty Vegetable Recipes!
Yummy and Good For You Too!
Vegetables are something we all know we're supposed to eat a lot of because they're good for us, but they can be bland and boring if not prepared in a tasteful way!
Discount Cookbook Club Members Get This Cookbook Free (password required):

(The cookbook club is a paid subscription that is separate from our free recipe forums)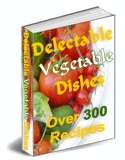 With these delicious recipes your family will be asking for a second helping of vegetables! Here's just a small sampling of just some of the recipes you'll find in this ebook.
BROCCOLI RICE CASSEROLE
APRICOT - GLAZED CARROTS
SWEET AND SOUR CARROTS3
LIMA BEAN-BACON BAKE
BLACK-EYED PEAS WITH SAUSAGE
FETTUCCINE WITH SHELLFISH, TOMATOES, OLIVES
ZUCCHINI PARMESAN
DILLY GREEN TOMATOES
RED HOT CUCUMBERS
SPECTACULAR SWEET CORN
CRACKLY CORN
BAKED APPLE & CARROT CASSEROLE
POTATO CASSEROLE
ONION ROASTED POTATOES
MARINATED MUSHROOMS & VEGETABLES SOUR CREAM CUCUMBER
SWEET SOUR CUCUMBERS
GROUND TURKEY WITH TOMATOES
SPICY CABBAGE
SUN DRIED TOMATOES WITH BASIL & PASTA
BAKED GARLIC CHEESE GRITS
ZITI WITH SUN-DRIED TOMATOES WITH MOZZARELLA
SUNNY CAULIFLOWER BROCCOLI TOSS
CABBAGE NORWAY
SESAME CUCUMBERS
CHEESY POTATO CASSEROLE
ARTICHOKE SUPREME
CURRIED SUMMER SQUASH
VICHYSQUASH
CORN VEGETABLE MEDLEY
SUNNY GREEN PEPPER BAKE
BAKED SPINACH AND CHEESE
STIR-FRY ZUCCHINI
OKRA CASSEROLE
GRILLED SWEET POTATOES WITH CILANTRO SAUCE
EASY RATATOUILLE
GOLDEN HAM & CHIVE POTATO CAKE
- Non Members Can Sign Up Here
- Or To Order This Title Separately Click Here