Delicious Tailgating Recipes

Tired of the usual Super Bowl fare — chips and popcorn, sodas and subs? Want to snack on tasty treats as good as the game? We hear you. Click below for inspired indoor grilling, perfect pizza, chili, and more than 200 party recipes that will definitely score at any gathering around the tube.
Discount Cookbook Club Members Get This Cookbook Free (password required):

(The cookbook club is a paid subscription that is separate from our free recipe forums)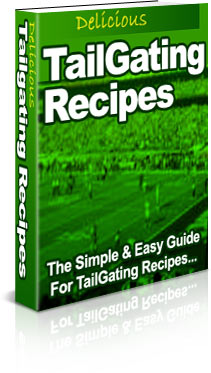 Within the pages of Tailgating Recipes, you will find delicious and traditional salsa recipes as well as a selection of unique variations like:
Bacon, Tomato and Cheese Dip
Beer Cheese Dip
Corn and Black Bean Salsa
Hot 7-Layer Dip
Quarterback Blitz Bars
Baked Pecan-Chicken Wings
Buffalo Wings
Fried Chicken Fingers with Come Back Sauce
Homemade Caramel Corn 'N Nuts
Italian Sausage Cheese Balls
Kick-Off Kabobs
Mini-Ham and Cheese Rolls
Party Pizzazz Pizza
Quarterback Quesadillas
Spicy Party Meatballs
Touchdown Poke Cupcakes
Bacon Cheeseburger Pizza
Beef Nacho Casserole
Cheeseburger Tacos
Chicken Salsa Biscuit Wraps
Crock-Pot Beef Barbecue
Easy Deep Dish Pizza
Fajita Wraps with Jalapeno Cream
Giant Baked Hero Sandwich
Meatball Hero Sandwiches
Spicy Kielbasa Sausage Recipe
Buffalo Chicken-on-a Stick
Speedy Smoked Chicken Mexican Pizza
Pork & Pepperoni Pizza Burgers
Mexican Stuffed Pizza
Hoagies
Grande Beef Burger
And Many More Great Tailgating Recipes...

- Non Members Can Sign Up Here
- Or To Order This Title Separately Click Here