Today's Secret Recipe is from Diane's Bakery in Roslyn, NY. Since 1982 they've been making fresh baked goods from scratch in small batches every day. Diane's also features a panini cafe that serves delicious breakfast and lunch dishes. At Diane's they make a delicious apple tart that combines all the classic flavors you love. Serve with a scoop of vanilla icing and you'll be in heaven.
You can also find a great selection of sweet and savory tart recipes our forum: [Here]
Enjoy!
=-=-=-=-=-=-=-=-=-=-=-=-=-=
Create Quick & Easy Fat Burning
Recipes That Will Taste Just Like Your Favorite Meals: Here
=-=-=-=-=-=-=-=-=-=-=-=-=-=
=-=-=-=-=-=-=-=-=-=-=
New Secret Recipe
=-=-=-=-=-=-=-=-=-=-=
Diane's Bakery Apple Tart
Like this recipe? Get our Secret Recipes Cookbook – Go Here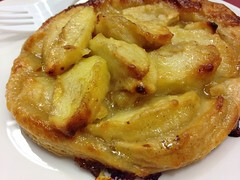 Sweet pastry dough:
2 ½ cups and 2 tablespoon all purpose flour
Pinch of salt
3 tablespoon sugar
9 ounces cold butter cubed
¾ cup ice water
Combine flour salt and sugar in a good processor.

Add cubed cold butter.

Pulse a few times till like coarse corn meal.

Add cold water.

Pulse till blended.

Form into ball and chill 2 hours.

Press into 10 inch tart pan with removeable bottom.

Chill while preparing filling.
Apple filling:
2 ½ lbs mixed apples
I like golden delicious, granny smith and gala
Peel, core and chop into large pieces.

Toss with:
1 ½ teaspoons corn starch
¼ cup white sugar
3 tablespoon brown sugar
1 teaspoon nutmeg

Add:
3 tablespoon melted butter
6 tablespoon water
1 tablespoon lemon juice

Let sit for a few minutes and add to prepare tart pan.
For the top:
3 golden delicious apples peeled, cored and very thinly sliced
Fan out on top of tart.

Brush with melted butter.

Sprinkle with sugar.

Bake at 350 for 45 minutes or until crust and apple are golden.

Brush with ½ cup warmed strained apricot jam.

Sliced when completely cool.
Makes 1 tart.
Have a comment or question about this recipe? Post it here
Source: Restaurant Hunter
Get more secret restaurant recipes on our Secret Recipe Forum: Go Here
Until Next Time… Be Well!
Kind Regards,
RSN