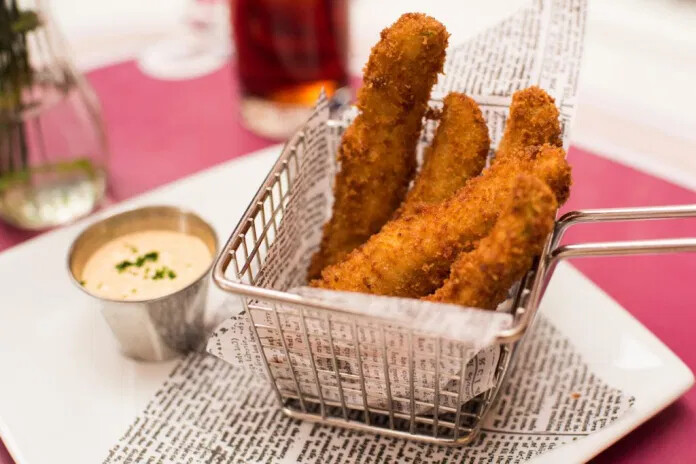 Zesty House Sauce
1 1/2 teaspoons your favorite hot sauce
1/2 cup your favorite ranch dressing
1 1/2 teaspoons lime juice
1/3 cup mayonnaise
1/8 teaspoon Coarse salt
1 pinch black pepper freshly ground
Fried Pickles
2 cups canola oil
1/2 cup Flour
3 large eggs
1 cup panko bread crumbs
1/3 cup Parmesan cheese grated
1 16-ounce jar dill pickle spears about 12 pickles
For Zesty House Sauce:
Combine all ingredients in small mixing bowl, whisking well.
Cover and refrigerate at least 30 minutes before serving.
For Pickles:
Using caution, pour oil into large skillet and heat to 365°F.
Place flour in shallow dish.
Whisk eggs until smooth in small mixing bowl. Transfer to another shallow dish.
Mix panko and Parmesan cheese together in another shallow dish.
Lightly dredge each pickle spear in flour.
Add pickle to whisked eggs, tossing gently to coat.
Add pickle to bread crumb mixture to coat.
Place breaded pickle on tray and repeat steps until all pickles are breaded.
Carefully place breaded pickles in skillet and fry until golden brown, 4 to 5 minutes, turning occasionally. Remove from skillet and drain on paper towels. Serve immediately with zesty house sauce.