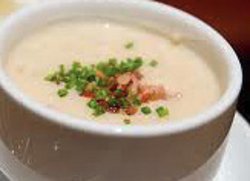 1/2 pound smoked bacon, cut into small pieces
4 tablespoons butter, cut into chunks
3 celery rib, diced
1 red onion, diced
1 cup all-purpose flour
3 cups chicken stock
4 cups whole milk
1 pound white cheddar cheese, grated
1 tablespoon Worcestershire Sauce
1 tablespoon Tabasco Sauce
Salt and Pepper, to taste
1/2 cup warm (amber-colored) beer
chives, finely chopped, for garnish
crispy crumbled smoked bacon, for garnish
Cook bacon in a large pot until fat is rendered out. Add the butter. Once the butter has melted, add the onions and celery and cook until tender and onions are translucent. Add the flour and mix well, creating a roux (looks like paste).
Pour in chicken stock and let simmer. Stir constantly until lumps no longer appear. While the stock is simmering, warm up milk in a second large pot or in your microwave. You want it slightly warm, not hot.
Once milk has warmed, carefully add it to the pot of chicken stock, stirring constantly to thicken. Reduce heat to low and slowly add the cheese, a little at a time. Mix well until melted.
Add salt, pepper, Worcestershire Sauce, Tobasco Sauce and warm beer, stirring continuously. Simmer on low another 15 minutes. Then ladle into bowls. Top with crispy, crumbled bacon and chives. Serve with warm rolls or pretzel bread.
Serves 8-10