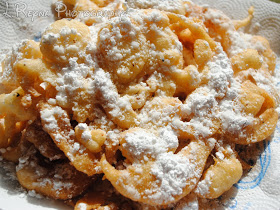 1 & 1/2 tablespoons baking powder
2 cups all-purpose flour
2 cups milk
1/2 teaspoon salt
2 eggs
2 & 1/2 tablespoons sugar
1 teaspoon vanilla extract
vegetable oil
powdered sugar (for sprinkling)
Mix eggs, sugar, vanilla and milk until well blended. Slowly add the flour, salt and baking powder a little at a time, stirring well. Mix until batter is smooth. If you have a funnel, that will work best but if not, you can pour some of the batter into a measuring cup or bowl that has a spout on one side (this method will make a slightly thicker funnel cake). You can also use a ladle.
Heat 1-inch of vegetable oil on medium-high in a deep pan. While waiting for the oil to heat, prepare a plate covered with several layers of paper towels to soak up the oil after frying. Also, have the powdered sugar ready to sprinkle on the hot funnel cakes. You can use a sifter or just a large spoon.
Once the oil is ready, drop a tiny blob of batter to see if it sizzles. If it does, then it's ready. Using your funnel, ladle or measuring cup, pour the batter into the hot oil making a thin circular outline. Quickly fill in the outline, overlaying the batter making sort of a spider web looking shape. The batter should puff immediately.
Using a pair of kitchen tongs, quickly turn the funnel cake over as soon as one side is golden brown. After the other side has cooked, remove it from the oil and place it on top of the paper towel-lined plate. Immediately sprinkle it with a heavy layer of powdered sugar. Repeat these steps until there is no more batter.