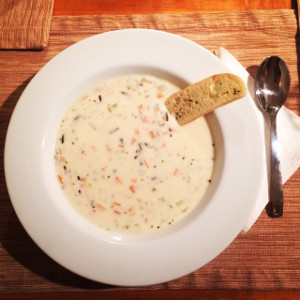 1 (6-ounce) box long-grain and wild rice mix
1 tablespoon olive oil
1 1/2 cup red onion, chopped
1 cup celery, chopped
1 cup carrot, chopped
2 cloves garlic, chopped
1 package 8-ounce mushrooms, halved
1/4 cup all-purpose flour
1/2 teaspoon dried tarragon
1/4 teaspoon dried thyme
2 cups water
2 tablespoons dry sherry
2 cans chicken broth
1 can 12-ounce evaporated milk
3 cups boneless, skinless chicken, cubed
Heat a large stock pot over medium-high heat. Add oil, chopped onion, carrots, celery, garlic, and mushrooms. Saute for 6 minutes or until ingredients begin to tender.
Combine flour, tarragon, and thyme and stir into the onion mixture. Cook until combined, about 1 minute, stirring frequently.
Add dry sherry, water, chicken, and broth. Stir until ingredients are combined.
Add evaporated milk and wild rice
Bring the whole pot to a boil, then reduce heat and simmer for 20 minutes or until the mixture becomes slightly thick and rice is cooked through. Pour into bowls and serve.