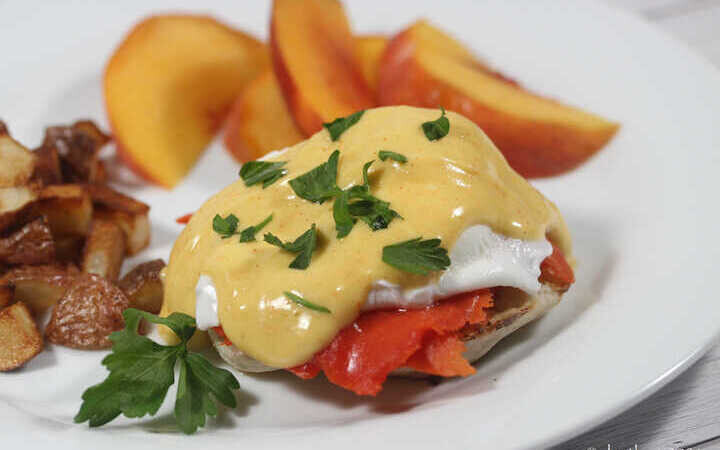 2 teaspoons distilled vinegar
2 large egg yolks
1 tablespoon fresh lemon juice
1/3 cup cold butter, cut into 8 pieces (no substitutions)
1/4 teaspoon salt
1/8 teaspoon paprika
1 pinch ground pepper
4 large eggs
2 English muffins, split and toasted
1/4 lb thinly smoked salmon, cut crosswise into julienne strips
1 tablespoon chopped fresh parsley
.
Fill large skillet halfway with water. Add vinegar and bring to a gentle
boil. Meanwhile whisk egg yolks, 2 tbs. water and lemon juice in small
saucepan. Cook over low heat, whisking constantly, until bubbles begin to
form around the edge of the pan. Whisk in butter, 1 piece at a time, until
butter is completely incorporated and sauce is thickened. Remove from heat.
Stir in salt, paprika and ground red pepper. Break eggs and carefully add to
simmering water. Cook uncovered, gently spooning water over the tops of
yolks until whites are set and yolks are cooked, 3 to 4 minutes. Place 1
toasted muffin half on each of 4 plates. Set aside 1/4 cup sliced salmon
for garnish. Arrange remaining salmon over muffins. With slotted spoon,
place poached eggs on salmon. Spoon sauce over eggs. Top with reserved
salmon. Sprinkle with parsley.
4 servings, 4 plates
Source: Donald Trump