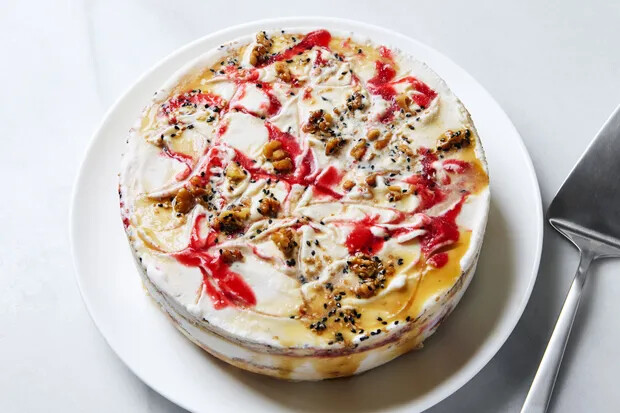 Plum Ripple
8 oz. red or black plums (2–3), pitted, chopped
3 Tbsp. light brown sugar
¼ tsp. kosher salt
Maple Ripple
¾ cup (96 g) walnuts
¼ cup (35 g) black and/or white sesame seeds
1 cup pure maple syrup, preferably grade B
¼ tsp. kosher salt
Blondie base and assembly
½ cup (1 stick) unsalted butter, plus more for pan
¾ cup (packed; 150 g) light brown sugar
2 Tbsp. tahini
2 tsp. vanilla bean paste or vanilla extract
¾ tsp. kosher salt
1 chilled large egg
1 cup (125 g) all-purpose flour
¾ tsp. baking powder
5 pints high-quality vanilla ice cream, divided
Special equipment
A 9" springform pan
Plum Ripple
Bring plums, brown sugar, and salt to a boil in a medium heavy saucepan over medium heat, stirring constantly. Reduce heat and simmer, stirring occasionally, until fruit is softened and juices deepen in color, about 8 minutes. Strain through a fine-mesh sieve set over a medium bowl, pushing plum flesh through; discard skins. Return sauce to pan and bring to a simmer, stirring occasionally. Cook, still stirring, until reduced to about ? cup, about 3 minutes. Pour ripple into a jar and let cool, then cover and chill 1 hour before using.
Maple Ripple
Place a rack in middle of oven; preheat to 350°F. Place walnuts on 1 side of a rimmed baking sheet; season with salt. Toast, tossing halfway through, 8 minutes (nuts should not be quiet golden brown yet). Remove from oven and add sesame seeds on empty side of baking sheet. Toast until nuts and seeds are golden brown, about 2 minutes. Let cool; chop nuts. Combine nuts, sesame seeds, maple syrup, and salt in a small jar or bowl and stir well. Cover and set aside.
Blondie base and assembly
Lightly butter pan and line with a parchment paper round. Heat brown sugar, tahini, and remaining ½ cup (1 stick) unsalted butter until bubbling in a medium heavy saucepan over medium heat, stirring until butter is melted and sugar is dissolved. Cook, without stirring, 1 minute. Let cool slightly.
Stir vanilla bean paste and salt followed by egg into brown sugar mixture. Sift flour and baking powder through a fine-mesh sieve into mixture and fold to barely combine. Scrape batter into the prepared pan. Bake until golden around the edges, evenly tan across the top, and puffed in the center, about 20 minutes.
Transfer pan to a wire rack and let blondie base cool. Run a knife around the sides to help base release but keep springform pan intact, then cover and chill in freezer at least 15 minutes or until ready to use.
Cut 3 pints of ice cream out of their containers and place in the bowl of a stand mixer fitted with the paddle attachment. (Alternatively, you can beat in a large bowl with a wooden spoon or stiff rubber spatula until the consistency of cake batter.) Mix on low speed 2 minutes, then working up to medium speed, beat until barely pliable. It will soften further as it sits, but you want it to be sticky and slightly challenging to spread when you assemble cake. Chill in the freezer at any point if it becomes too soft and melted.
Remove blondie base and remaining 2 still-frozen pints of ice cream from freezer. Using an offset spatula, spread a third of softened ice cream over base. Using a spring-loaded ice cream scoop, scoop out and place mounds of 1-pint still-frozen ice cream on top in a random manner. Dollop one third of maple ripple over ice cream, avoiding edges of pan. Next, drizzle one third of plum ripple over ice cream, creating stripes. Repeat layering process, using half of remaining softened ice cream, all of remaining frozen ice cream, half of remaining maple ripple, and half of remaining plum ripple. Top with a final layer of remaining softened ice cream, smooth surface, then drizzle with remaining maple ripple and plum ripple. (If at any point the ice cream gets so soft that you can't achieve distinct layers, chill in freezer for a few minutes.) Freeze, uncovered, 2 hours, then cover and freeze at least 8 hours before serving.
To serve, run a knife or offset spatula around edge of pan to release. Unmold and remove parchment paper; discard. Transfer cake to a platter, smooth sides with an offset spatula, and freeze 10 minutes. Slice with a warm knife, wiping off between cuts.