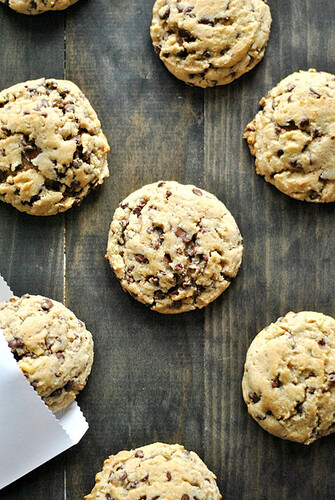 1/2 cup old fashioned oats
2-1/4 cups all purpose flour
1-1/2 teaspoons baking soda
1 teaspoon salt
1/4 teaspoon cinnamon
1 cup butter, softened to room temperature
3/4 cup packed brown sugar
3/4 cup granulated sugar
1-1/2 teaspoons vanilla extract
1/2 teaspoon lemon juice
2 eggs
10oz semi-sweet chocolate chips
1-1/2 cups chopped walnuts or pecans(optional)
Preheat oven to 350 degrees. Place oats in a food processor or blender, and process until fine. Combine with flour, baking soda, salt, and cinnamon in a medium-sized bowl, then set aside.
Beat together butter, sugars, vanilla extract, and lemon juice until light and fluffy, about 3 minutes. Add eggs and beat until combined. Add dry ingredients to wet ingredients in 2 batches, mixing well between each batch. Pour in chocolate chips and mix until just combined.
For small cookies: drop 1 Tablespoon cookie dough on parchment paper lined baking sheets, then bake for 10-12 minutes, or until golden brown around the edges. For large cookies: drop 2 Tablespoons cookie dough, and bake for 12-14 minutes.
Let cookies sit for 2 minutes before removing to a cooling rack to cool completely.
Note
For fluffier cookies, chill dough overnight before dropping onto baking sheets and baking.