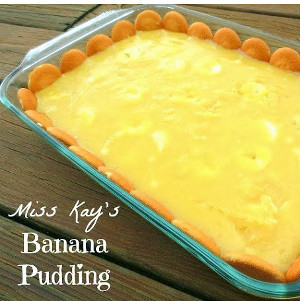 2 sticks of butter
2 c. sugar
1 tsp. salt
3/4 c. all-purpose flour
1-12 oz can of evaporated milk
3/4 c. milk
6 egg yolks
1 tsp. vanilla extract
1 bag vanilla wafers
2 bananas, sliced
In a large double boiler melt the butter over med-low heat. (FYI–My stove cooks hot so you may need to turn the heat up on yours.)
Add the sugar, salt, flour, evaporated milk and regular milk. Stir with a whisk.
Add the egg yolks to the mixture, constantly stirring until thick. (Note–it took me about 30 minutes of stirring for it to thicken.) Add the vanilla extract.
Place the vanilla wafers and bananas into a 9? x 13? Pyrex dish. Pour in mixture.
Chill before serving.