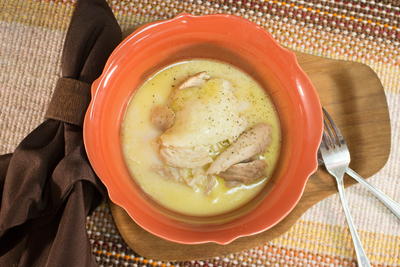 1 (5-pound) chicken, cut into serving size pieces
1 teaspoon salt
1/2 teaspoon fresh ground black pepper
1 (12-ounce) can evaporated milk
1 stick butter
4 cups all purpose flour, plus 2 tablespoons for rolling
5 teaspoons baking powder
1 teaspoon salt
3/4 teaspoon baking soda
3 tablespoons butter-flavored vegetable shortening
2 cups buttermilk
Rub the chicken pieces well with salt and pepper and place into a large 6 to 8 quart stew pot. Add 10 cups of water and place over medium high heat until it comes to a boil, then lower heat, cover and simmer for 1 hour. Chicken should begin to pull away from the bones. Remove the chicken pieces from the pot and discard bones and skin, then shred the meat and set aside.
Add the evaporated milk and butter to the broth in the pot and allow to simmer while you prepare the dumplings.
Combine the flour, baking powder, salt and baking soda in a large bowl, tossing to mix well and remove any lumps, or use a food processor. Cut in the shortening until it is in small pieces the size of peas. Add the buttermilk gradually and mix until the dough holds together and resembles biscuit dough.
Sprinkle the 2 tablespoons of flour on a work surface and scoop the dough out onto the surface. Knead the dough together just one or two times until it holds together and is no longer very sticky, then divide into 4 balls. One at a time, roll the balls with a rolling pin to a -inch thickness then cut into 2-inch squares, adding flour as necessary to keep the dough from sticking to the surface. Place the squares on a baking pan which is lightly dusted with flour, and continue to roll and cut the remaining dough.
Bring the broth in the stew pot back to a boil. Drop the dumplings into the pot a few at a time and then lower the heat to low and cover. Simmer 15 minutes.
Turn off the heat and stir the shredded meat back into the broth and let stand a few minutes until it is all heated through.
Serve in soup bowls, ladling in some meat, some broth and then dumplings on top. Sprinkle with salt and pepper to taste and serve hot.
Serves: 8