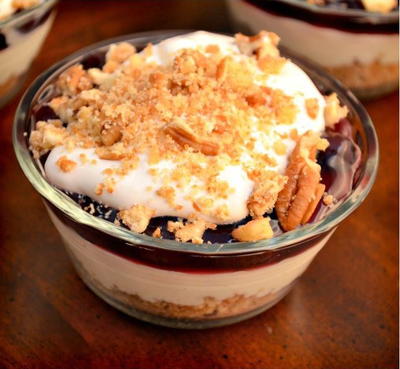 A rich, creamy filling in a nutty-vanilla wafer crust, topped with your favorite pie filling.
1 1/2 cups crushed vanilla wafers
1 cup chopped pecans
1 stick melted butter (Duck Commander used 5 TBS)
1 package cream cheese
1 - 14 ounce can of sweetened condensed milk
1/3 cup lemon juice
1 - 21 ounce can of your favorite pie filling
Preheat the oven to 350 degrees.
CRUST LAYER:
Crush vanilla wafers to equal 2 cups.
Add the melted stick of butter.
Mix in 1 cup of chopped pecans.
Save about 8 tablespoons of the crust mixture to top the dessert.
Add the pie crust mixture in the bottom of a 9 inch pie pan OR 8 individual ramekins. (see my video)
Bake the crust 10 to 15 minutes and allow to completely cool.
CREAM CHEESE MIXTURE:
Mix together the lemon juice, condensed milk, and the cream cheese.
Once the crust has completely cooled, add the cream cheese mixture evenly on the pie or divide evenly on the 8 ramekins.
Place the layered crust with the cream cheese mixture in the refrigerator for 6 or more hours.
When you are ready to eat this dessert, add your favorite pie filling to the top.
Garnish with a little Cool Whip and about 1 Tablespoon of reserved crust to the ramekins.